It has been lovely to welcome back all of our pupils including some new faces who have become part of the SSPP family.
SSPP Showcase

Along with our weekly newsletter, for fantastic pictures and videos of the wonderful learning and events at SSPP, please visit our Facebook page and Twitter feed
Rights Respecting Schools Award
SSPP is a Rights Respecting Gold Award School.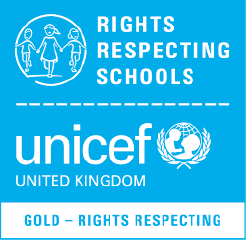 This award is a Unicef UK programme that aims to put children's rights at the heart of schools in the UK. It aims to help embed children's rights in their ethos and culture to improve well-being and develop every child's talents and abilities to their full potential.
Click here for further details about the award and links to our Article Of The Month.
February Article 12
Every child has the right to say what they think in all matters affecting them, and to have their views taken seriously.
Please follow the link here to see details of our new wider-community project regarding Air Pollution and Traffic Safety.
Admissions
Admission Arrangements for SS Peter & Paul's Catholic Primary School 2022 - 2023 are now available on our school website. Please click here to follow the link.
Staff Recruitment
For full details of any advertised role, please visit our 'Vacancies' page by clicking here.
Latest News
KS2 Carol Concert has been cancelled.

School is open on Tuesday 13th December.

School is expected to open on Tuesday 13th December.

School closed Monday 12th December.

Safe weather conditions
Further Articles »
Latest News
KS2 Carol Concert has been cancelled.

School is open on Tuesday 13th December.

School is expected to open on Tuesday 13th December.

School closed Monday 12th December.

Safe weather conditions
Further Articles »
Latest School Calendar Events
Last day of Spring 1

10

Feb

2023
Half Term

13

Feb

2023
Start of Spring 2

20

Feb

2023
Last day of Spring 2

31

Mar

2023
Easter Holiday

01

Apr

2023

SSPPCatholicPrimary @SSPP_Primary
30 Jan As part of a history lesson about the Ancient Maya, Year 6 are working like Victorian explorer Alfred P. Maudslay.… https://t.co/9GVLusPI7U
30 Jan Our Liturgy Team are leading today's assembly to remind the children about the messages behind Catholic Social Teac… https://t.co/PlvQfWVb3n
26 Jan Y2 are learning about algorithms for their Computing topic. They've looked at the importance of giving clear instru… https://t.co/wne5YpMvSo