Please take the time to read our weekly newsletter to keep informed of your child's learning at SSPP
SSPP Showcase

Along with our weekly newsletter, for fantastic pictures and videos of the wonderful learning and events at SSPP, please visit our Facebook page and Twitter feed
Rights Respecting Schools Award
SSPP is a Rights Respecting Gold Award School.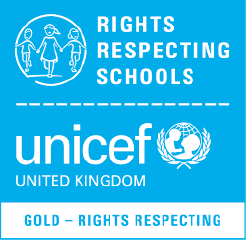 This award is a Unicef UK programme that aims to put children's rights at the heart of schools in the UK. It aims to help embed children's rights in their ethos and culture to improve well-being and develop every child's talents and abilities to their full potential.
Click here for further details about the award and links to our Article Of The Month.
November Article 14
Every child has the right to think and believe what they want and also to practise their religion, as long as they are not stopping other people from enjoying their rights. Governments must respect the rights of parents to give their children guidance about this right.
Please follow the link here to see details of our new wider-community project regarding Air Pollution and Traffic Safety.
Admissions
Admission Arrangements for SS Peter & Paul's Catholic Primary School 2022 - 2023 are now available on our school website. Please click here to follow the link.
Staff Recruitment
For full details of any advertised role, please visit our 'Vacancies' page by clicking here.
Latest News
Please note the change to the class assembly on Friday 11th November.

We are currently asking for any Harvest Donations ready for our assembly tomorrow (Wednesday 19th October).

As the eagle-eyed will note, that should be Friday 30th September (not October).

Please join us in the morning (Friday 30th September) at 9:15am to celebrate being part of the world's biggest coffee morning.

We have managed to secure a very short extension to the parental survey for the Race and Equality Awareness Scheme we are taking part in. For further details (and a short introductory video) please visit the school website.
Further Articles »
Latest School Calendar Events
KS2 Advent Reconcilliation

29

Nov

2022

1:30 pm - 2:00 pm @ Main Hall
Christmas Dinner & Jumper Day

14

Dec

2022
End-of-term Mass

20

Dec

2022

11:00 am - 12:00 pm @ SSPP Catholic Church
Last day of Autumn 2

20

Dec

2022
Christmas Holiday

21

Dec

2022
INSET Day

05

Jan

2023

SSPPCatholicPrimary @SSPP_Primary
24 Nov In Reception, our text this week is 'How to catch a star' by Oliver Jeffers. We try and incorporate our Maths activ… https://t.co/FIzWfUPxDz
21 Nov Our assembly was halted today by a large group of children. They stood up as the Head Teacher was in full flow to d… https://t.co/o0M7xNORHh
16 Nov @UNICEFuk_action @UNICEF_uk We are indeed joining you. The whole school is sharing various Key Stage appropriate vi… https://t.co/KOAk5owG1m