Rights Respecting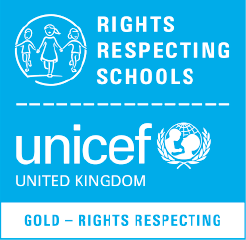 We are a Rights Respecting Gold Award school!
The Gold report can be accessed here. We are so proud of this achievement
Our Silver report can still be accessed here.
About
The Rights Respecting Schools Award is a Unicef UK programme that aims to put children's rights at the heart of schools in the UK. It aims to help embed children's rights in their ethos and culture to improve well-being and develop every child's talents and abilities to their full potential.
Schools go on a journey to become fully Rights Respecting. The Award recognises a school's achievement in putting the United Nations Convention on the Rights of the Child into practice within the school and beyond.
The Award
The Unicef UK Rights Respecting Schools Award (RRSA) supports schools across the UK to embed children's human rights in their ethos and culture. The award recognises achievement in putting the UN Convention on the Right of the Child (UNCRC) at the heart of a school's practice to improve well-being and help all children and young people realise their potential.
The award is based on principles of equality, dignity, respect, non-discrimination and participation. The initiative started in 2006.
Schools involved in the Rights Respecting Schools Award work towards recognition that they have embedded children and young people's rights in their school's practice and ethos. Schools are required to implement four evidence-based standards that cover the leadership of the school, knowledge and understanding of children's rights, ethos and relationships and the empowerment of children and young people.
The Desired Impact
The Rights Respecting Schools Award (RRSA) can have a profound impact on children and young people, and the school as a whole. When the principles and values of the UN Convention on the Rights of the Child (CRC) are introduced and reinforced throughout school life, children and the wider school community benefit.
As schools implement the RRSA standards, they enable children and young people to make informed decisions and to grow into confident, active and empowered citizens.
Schools often see:
I

mproved self-esteem and well-being

Improved relationships and behaviour (reductions in bullying and exclusions and improved attendance)

Improved engagement in learning

Positive attitudes towards diversity in society and the reduction of prejudice

Children and young people's enhanced moral understanding

Children and young people's support for global justice

Children and young people become more involved in decision-making in schools.
Click here to view our Article Of The Month for November.

To view a presentation shown to pupils and staff to explain the Rights Respecting Award, please click here.
Articles
To see a full list of the articles held within the Convention in child-friendly language click here.
Steering Group
The main body of our steering group is made up with our school council representatives. This is complemented with adults from across the school community. Further details of the pupils involved can be seen here.
Competition Winners
Our pupils were asked to create a model SS. Peter and Paul's pupil (boy or girl) who would remind all pupils what being a rights respecting child at SSPP means. They were asked to consider how they would behave towards others in the classroom or the playground, how they should work with others, how they could take care of their environment and resources and show a rights respecting attitude at all times.

| | | | |
| --- | --- | --- | --- |
| | | | |
| Reshmika Y3 | Dominic Y5 | Jessica Y5 | Joshua Y5 |
Myths-and-Misconceptions
A document (produced by UNICEF) about 'Myths and misconceptions about the Convention on the Rights of the Child' can be viewed by clicking here. It is a short, but informative, piece of writing to help clear up many common minsunderstandings regarding the articles and the idea of children's rights.
Projects
Please follow the link here to see details of our wider-community project regarding Air Pollution and Traffic Safety.