Junior Travel Ambassadors 2021 - 2022
What do they do?
JTA stands for Junior Travel Ambassadors. The role of the JTAs is to help ensure that Road Safety is high profile at SS Peter and Paul's. Our JTAs are chosen because they are committed to sustainable transport and understand the need for children to be safe when travelling to school. They also encourage pupils to be healthy by walking or cycling to school.
Archive (Examples)
JUNIOR TRAVEL AMBASSADORS 2017-18
Day Glow Day - Monday 6th November 2017
Pupils are encouraged to come to school dressed in their brightest coat and jumper to highlight the importance of being bright and being seen by motorists at this time of year. For more information, download our poster here.
Assembly 30th October 2017
Pupils learnt about how to cross the road safely and how to dress brightly to ensure they are easily visible to motorists. To view a copy of the presentation we shared with pupils, click here. To listen to the song pupils learnt about crossing the road safely, then please click here.
JUNIOR TRAVEL AMBASSADORS 2016-17
Assembly 26th June
The JTAs led the whole school assembly. They discussed the importance of active and safe travel and they reported back to the rest of the school the projects and activities that they have been working on:
Walk to School Banner Competition
Earlier on this year we held a competition in which you had to design a banner to encourage others to walk to school. We had so many amazing designs – thank you to everyone who took part. We sent the designs off to the Redbridge Travel Team and they finally chose a winning design which was made an amazing banner which will be displayed on the front gate of the school
Winner: Jia Ladhar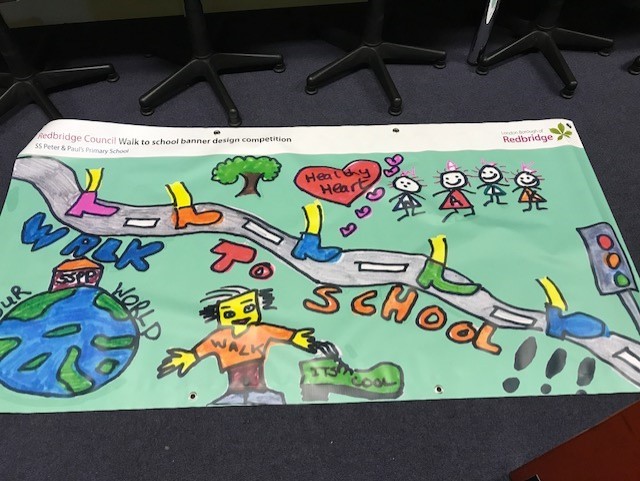 Walk to School Photo Competition
Before half term, as the lovely summer weather started to appear, we organised a competition in which we asked you to take a photograph of something interesting on your walk to school. Thank you to all the children who took part in the competition. The photographs were sent off to the Redbridge Travel team and they chose the winners. We actually have three joint winners. They are Reshmika in 4O, Aarthika in 4S and Advay in RO'N. Advay produced a wonderful powerpoint presentation of his walk to school They will each receive a £10.00 voucher to spend a WHSmith.
| | |
| --- | --- |
| | |
| Aarthika | Reshmika |
The Big Pedal
Thank you to everyone who cycled or scooted to school during the Big Pedal. Altogether 1,693 schools in the country took part. Our final position was 459th which was very good! In our borough, Redbridge, 13 schools took part and SS Peter and Paul's came second. Well done everybody!
Each day during the Big Pedal the JTAs collected the data and uploaded it to the Big Pedal website. This then showed which classes had the most people cycling or scooting to school. The winning class from our school had a total of 126 journeys by bike or scooter over the two weeks which was fantastic! That winning class was….1S! Well done 1S.
BMX Bike Stunt Show
As a reward for taking part in the Big Pedal, we were given a free BMX bike stunt show which took place on Monday 26th June.