Pupils achieve half marathon milestone in Junior parkrun.
Pupils achieve half marathon milestone in Junior parkrun.
18 April 2017 (by adminuser)
Following Andy Baddeley's visit to SSPP in January we have had a small number of children who have represented the school at the 2km Junior parkrun every Sunday at 9am, Central Park, Dagenham.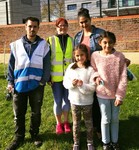 Among them are Karina (1O'C) and Jia (3A) who have attended every week and achieved their half marathon milestone last weekend. They were presented with their half marathon wristbands at the end of the run on Sunday, 16th April, having completed 11 junior parkruns. Jia also ran a new personal best, beating her previous record by a whole minute. Mum, Hardeep, has also become a valued member of the volunteer team and is already halfway to receiving her 25th volunteer t-shirt. The course is 2km long and is fully run by volunteers who marshall the course, supporting the children as they complete their run, recording their time and issuing their finish tokens. It would be lovely to see more children joining Mrs Woodhouse and the Ladhar's at the parkrun every Sunday at 9am. Registration is simple and straightforward at http://www.parkrun.org.uk/register/ Once you have registered you will be issued with a barcode, which you should bring to the run each week. This then enables you to access your recorded time via the parkrun website. The number of children competing reached a record 31 last Sunday when the parkrun celebrated its third anniversary – wouldn't it be great if lots more children from SSPP could come along and join the growing team? Due to the London Marathon next weekend, many of the volunteers are either running or providing support to the competitors so there will be no parkrun on Sunday, 23rd April but it will be back on Sunday, 30th April. Please come along and join Mrs Woodhouse and the parkrun team then. If you have any queries please speak to Mrs Woodhouse who will be able to help you out.