Catholic Life
We show our love for God in the way we treat each other.
Together we follow Jesus, by learning and sharing our gifts.
A Catholic school is a community of love and hope. It provides young people with a Catholic education, which perceives life as a faith journey. The ultimate aim of a Catholic school is to develop the full potential of all young people, leading to their life-long activities being guided by the Spirit and presence of Christ, in the service of God and of others.
As a Catholic school, our belief in Jesus Christ as the Son of God, and in his teachings as the right way to live, are fundamental to the entire ethos of our teaching, care for and attitude towards the children. It is integral in all aspects of school life and is outlined in our mission statement, it means that in Religious Education we are not just teaching a curriculum subject but also a living faith which we are encouraging children to share in.
The Catholic school is supported in its mission by the active partnership of the home, the school and the parish. Together, they provide support for the faith community, helping to form and develop in all a mature Christian conscience.
Catholic social teaching (CST) is rooted in Scripture, formed by the wisdom of Church leaders, and influenced by grassroots movements. It is our moral compass, guiding us on how to live out our faith in the world.
Prayer Spaces
There are many areas within our school which are assigned as spaces for prayer and reflection. These include a dedicated shrine to Our Lady within our hall; a prayer room which is open to pupils all day where they can write petitions in our school prayer book and an outside space within our Learning Resource Centre. The prayer room is made available to parents at certain times when it is not being used by children.
Our large outdoor prayer garden, located at the front of our school, is utilised throughout the year. This becomes a focal point at various times such as in May, where all of our children take part in a Marian procession, and in November for Remembrance Day.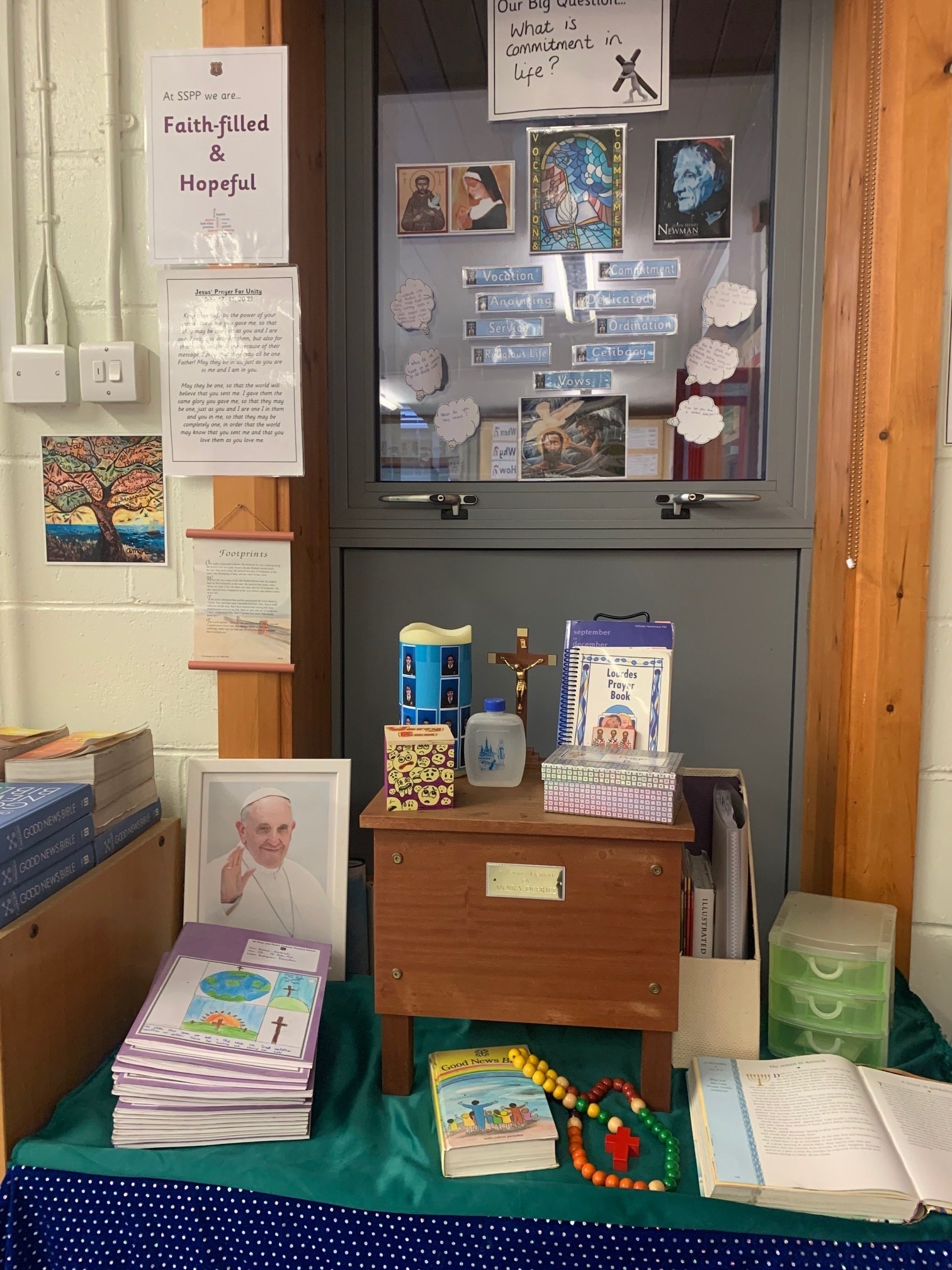 Each classroom has a dedicated prayer focus area. This are special places which reflect the current RE topic being taught, as well as the colours of the relevant Liturgical season. Our prayer focus areas contain many artefacts which are special and allow for our RE books to be displayed in a place suitable for their importance.
RE Newsletters
To enable parents to support the work we do in school, we publish a termly R.E. Curriculum Newsletter which outlines the topics being covered by each year group and suggests activities parents can undertake with their children at home.
Autumn Term Curriculum Letter 2022-23
Spring Term Curriculum Letter 2022-23
Summer Term Curriculum Letter 2022-23
Liturgy Team
Each year, pupils apply to be part of our Liturgy Team. These Liturgical Leaders then take an active part in the Catholic life of the school. They help organise masses and services, produce prayers for the Head Teacher's assemblies and try to drive improvement throughout the school. They meet regularly with the RE Lead, who guides them and helps facilitate projects for the year.