Athletics Competition
Athletics Competition
25 January 2018 (by adminuser)
On Wednesday, 24th January a group of twelve children from Y5 took part in the Borough Sportshall Athletics Competition at Beal High School.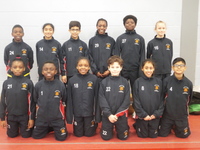 They took part in a range of field events, including the standing triple jump, vertical jump, speed bounce as well as a variety of throwing events. The standing triple jump was an event which no-one had competed in before but the four children who took part in this were outstanding in their achievements.
When they had competed in the field events, all of the children participated in a range of different races; some of which involved obstacles and others which were flat races over different distances.
The children were superbly behaved and represented the school fantastically. As can be seen by the team photo, they wore their SSPP tracksuits with pride.
Thanks must go to Palmer Catholic Academy who provided transport both to and from the event.