Diocesan Centenary Mass
Diocesan Centenary Mass
28 June 2017 (by adminuser)
SSPP's Head girl and Head boy represented our pupils at a special Mass at Brentwood Cathedral last week to mark the centenary of the Diocese of Brentwood.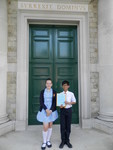 They were joined by secondary and primary schools from around the Diocese who were invited to help celebrate this special occasion. The Rt Rev Alan Williams celebrated the Mass along with priests from across the Diocese.
To mark the occasion, Kush and Jessica wrote a beautiful piece outlining what God means to them.
"God is an inspiration. He created the world, loved us unconditionally and gave up his son for the forgiveness of our sins. To the community, God means new life, a fresh start everyday and hope. God sent the Holy Spirit in a form of a dove to guide us and watch over us.
God gives people self confidence and shows he will always be there when you're going through difficult times. Whenever life knocks you down, you always get back up and try again, people will always support you. During the past few months there have been terror attacks but people are supporting each other and staying strong. Even the little things like keeping them in your thoughts and prayers."